Team building activity
Information for organisers
Treasure Hunt Bath is a great activity for a team-building event, office away day or an activity to bring together remote teams.
How the game works
The game works like a Whatsapp Group chat with a pirate character who leads each team around Bath. They have to figure out cryptic clues by finding things in the city.
Everyone in a team can access their link on their own phones. They all see each others' messages just like a group chat.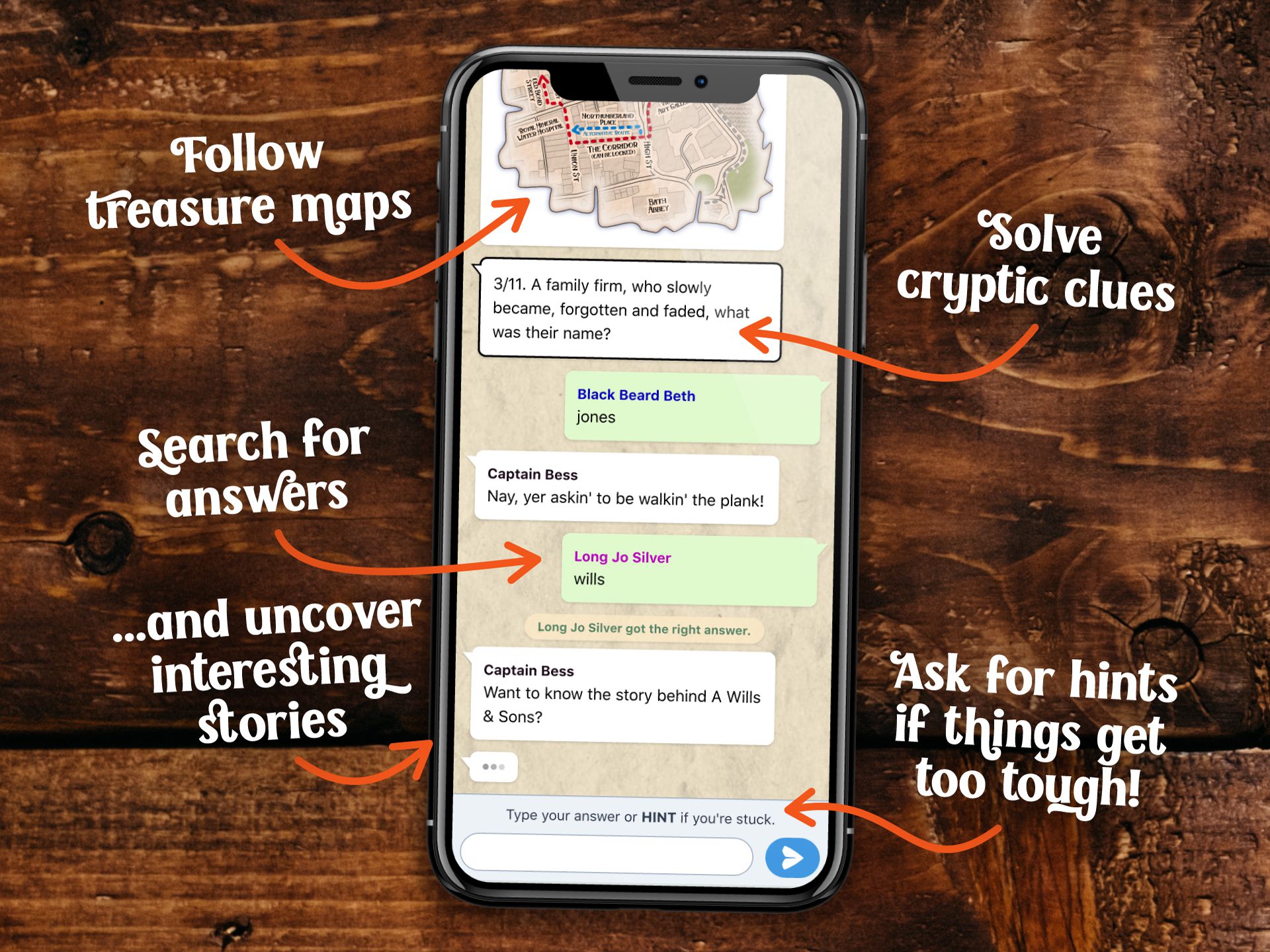 Demo game: Treasure Hunt Bath
Here's a demo game (open on your phone):
https://treasurehuntbath.com/demo
Split into teams of 6
For big groups we suggest breaking into teams of up to 6.
Each team should start 5 minutes apart. That way they aren't on each others' toes but they'll see each other at any planned breaks along the way.
Duration & breaks
The game takes 1½–2½ hours depending on breaks.
We recommend planning in a break at one of Bath's excellent venues along the way.
Here's a map of Bath showing the full route (no spoilers!):
https://treasurehuntbath.com/route
Start and end points
The game starts at the front of Bath Abbey and takes them on a fixed route that we've carefully designed.
It ends at Sally Lunn's House.
Make it a competition
When each team finishes, they are awarded a score.
To get a perfect score, they'd need to get every clue right first time with no hints.
When the first team finishes, you get an email with a link to a leaderboard. You can refresh this as the others teams finish to see who won.
We suggest competing on score rather than time as it's nicer ṫake your time rather than rushing.
How to book
Pay by card
The fastest and easiest way is to book online and pay by card.
You'll get all your games and instructions instantly.
Pay by invoice
Contact us if you'd prefer an invoice. Invoices must be paid at latest 3 working days before your game.
Once it's paid, we'll create your games and send your instructions manually.
We normally charge a manual payment fee. To avoid this, book online and pay by card.
You allocate teams
You'll get an email with a unique link for each team.
As the organiser, you allocate people into teams and give the links to the people in each team.
Need help?
Get in touch and we'll sort you out.
Ready to book?