Treasure Hunt Bath will take you on a fab route around the city, spotting clues and following treasure maps, all at your own pace.
A different way to see Bath
A treasure hunt is more like a game than a traditional tour. You have to follow treasure maps, solve cryptic clues and keep your eyes peeled to find the answers.
You'll have some banter with our friendly pirate Captain Bess. She'll put you in your place if you get too many answers wrong!
Take your time, go at your own pace
You can start when you like, there's no fixed start time. You can even finish the next day if you get stuck in a nice pub!
Fancy a picnic in front of the Royal Crescent? Enjoy! Take it at your own pace. Look out for pretty cafes and tea-rooms along the route.
Play on your own terms. It's just you and your team, like a private tour.
What a fabulous idea!"

We stopped for lunch part way through, (lovely place - Cafe Lucca - amazing) and stopped and started and all in all took about 3.5 - 4 hours (can do in less of you don't stop so much!) brilliant thing about this is that you can go as fast or as slow as you like!!
Start playing in 60 seconds
It's all on your phones, there's nothing to print or collect.
Book online and you'll get a link to start your game straight away.
You can rearrange or cancel
We're flexible. If you change your mind, or if you can't make it to Bath, play another day or cancel for free.
You'll see the best of Bath 🧭
No spoilers! You'll see the main sites like the Roman Baths and the famous crescents, but the real fun is finding the clues and spotting interesting details right there in the street.
Great way to discover the city !"

It was really fun and instructive. It makes you explore the city and see details you would not see otherwise.
Bath Abbey - the awe-inspiring former Benedictine monastery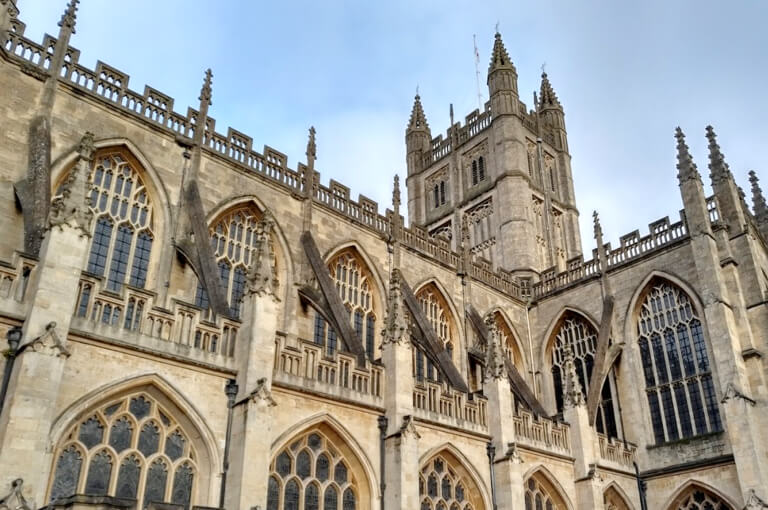 Parade Gardens - formerly an orchard belonging to Bath Abbey, these delightful gardens offer the perfect place for a stroll.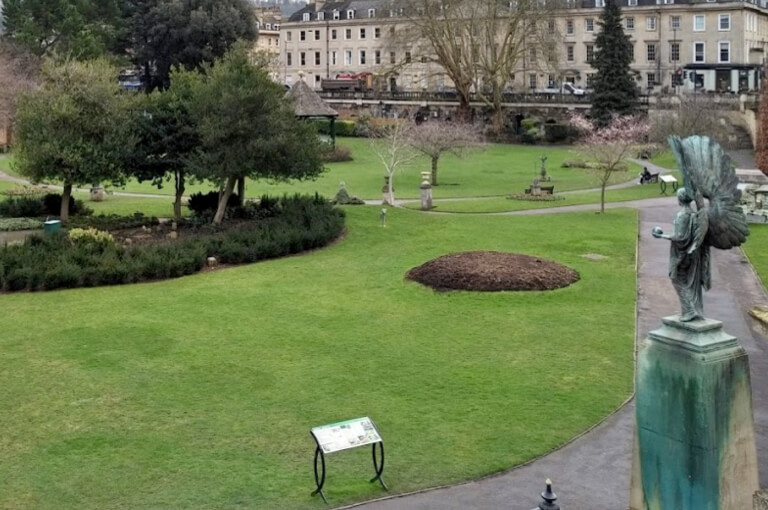 Pulteney Bridge - built in 1769, this bridge incorporates shops and spans the River Avon. It's one of Bath's most famous sights!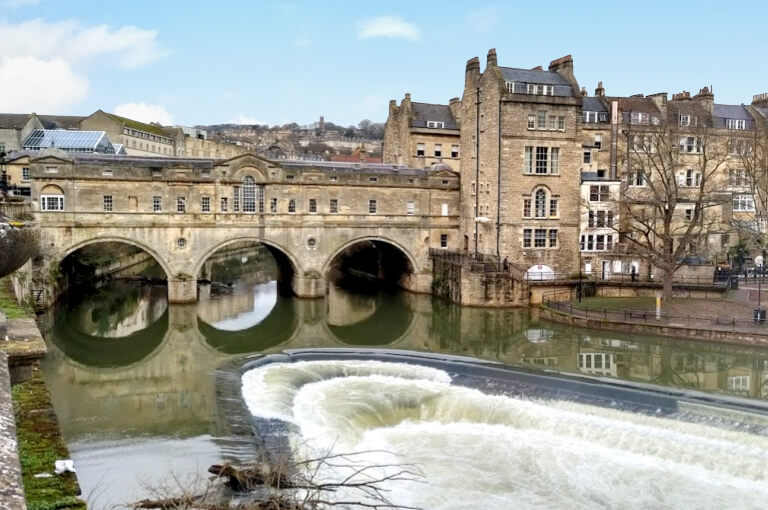 The Corridor - one of the world's earliest retail arcades, following in the steps of the fashionable arcades of Paris and London.
The Assembly Rooms - these magnificent rooms were built in the 18th century as a new venue for balls, concerts and card games. Today, this beautiful building is run by the National Trust and home to the Fashion Museum.
The Circus - A circle of magnificent Georgian Houses surrounding a cluster of huge plane trees.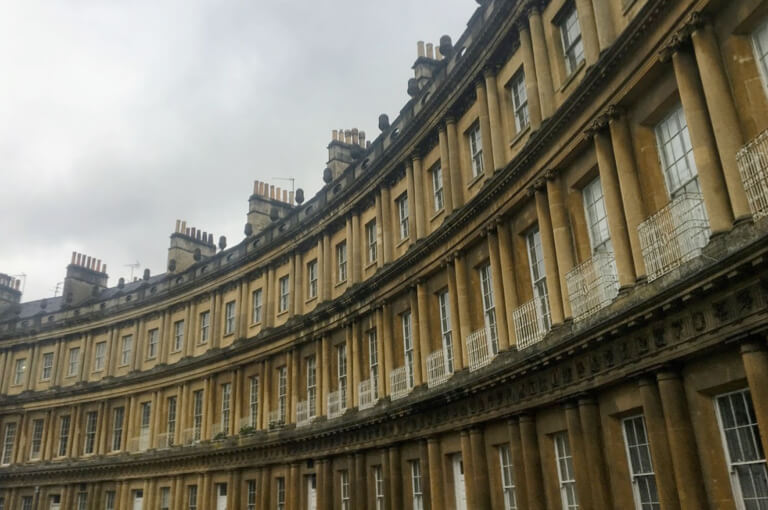 Royal Crescent - an impressive terrace of 30 Grade 1 Listed Georgian houses laid out in a sweeping crescent overlooking Royal Victoria Park.
Theatre Royal - Bath's historic and beautifully renovated theatre offers a fantastic programme of drama, opera, comedy and dance.
Thermae Bath Spa - Britain's only naturally warm, mineral-rich waters mean you can bathe as the Romans did over 2,000 years ago!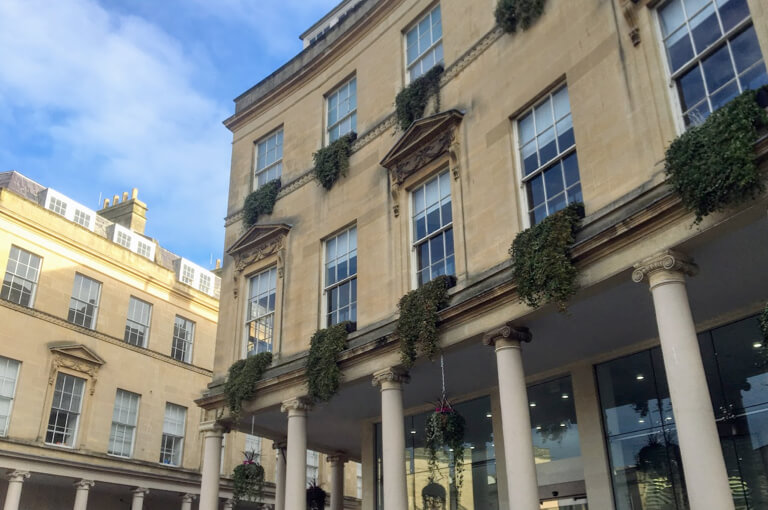 The Roman Baths - once part of day-to-day life in Ancient Rome, these wonderfully preserved Roman remains will transport you back in time to understand how people lived in the town of Aquae Sulis!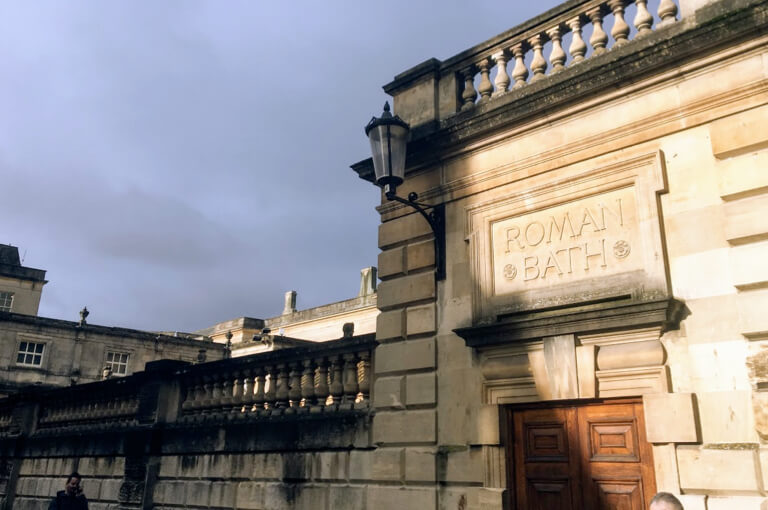 By the end, you'll have seen most of the city. You've probably spotted a cafe or two you'd like to revisit!
What if it rains?
If it's patchy rain, you can pop into a tea-room or a pub along the route: the treasure hunt is flexible.
If it's really bad and you'd like to switch days, that's fine. Or you can split it over two days if you like.
If it's really pouring and you don't fancy swimming in the Avon, we'll give your money back, even if you've started the game.
Will it be too difficult?
Don't worry! The treasure hunt has some tricky clues, but if you get stuck you can ask for a hint.
We make sure you don't get completely stuck, ambling round and round the Circus...
Will I have fun if I'm from Bath?
Yes! You already know the city, but we bet you'll notice things you've walked past a hundred times before.
We've worked hard to find the less-obvious stuff - beyond the typical blue plaques - and some interesting stories and anecdotes. You're going to have a great time!
Is it suitable for kids?
The game is designed for adults and curious kids aged 8 and up.

Younger ones are welcome though you may have to help by interpreting the clues and Captain Bess' pirate speak.
The whole route is pushchair friendly, avoiding steps or showing step-free alternative routes.
We're a family of four with a 13 year old and a 11 year old. Mum was map reader, dad reminded kids about clues, and kids were hunting for clues."
Great experience"

Excellent tour, all the sights without having to drag the kids from one to another. Hints were handy - and needed! Great idea would highly recommend.
Will it be too physical?
It's 2 miles walking but there are lots of places to rest. There are cafes and restaurants along the way, or relax in Victoria Park which is a short detour from Royal Crescent.