Unique Bath Hen Do Ideas & Activities (Friday-Sunday plan)
By Bea, Treasure Hunt Bath. Updated September 2022
Hen parties don't have to be all willy straws and cheap chardonnay. They also needn't cost the equivalent of a week in Ibiza. If you're organising a celebration for the bride-to-be but feel queasy at the thought of butlers in the buff, look no further than Bath. A city of history, relaxation and culture on the surface, Bath also has hidden mysticism, a strong foodie scene and plenty of non-traditional hen party ideas.
From pasta making to river cruises, picnics to treasure hunts and Jane Austen to Bridgerton, there are plenty of things to do in Bath for all types of hen party.
Here's our day-by-day itinerary for a girly get-together that's more class than cringe and will satisfy even the most particular mother of the bride.
Friday evening
A great way to avoid the awkwardness of new friends getting to know each other is to dive straight into an activity. Choosing what to do of an evening can be tricky, especially if you need hen night ideas for mixed ages - not everyone will be into dancing until the small hours. So before you hit up the best clubs in Bath, why not try these low key hen party ideas to ease into a fun weekend.
---
Get the conversation flowing with a private wine tasting
West Country vintners Le Vignoble offer hen party wine tastings with a personal touch.
From a gorgeous Georgian building in Milsom Place, life and business partners Yannik and Ele will guide you through a collection of hand-picked bottles and the stories behind them. It's a chance for everyone to relax, catch up and get to know each other in a chilled environment. They cater for complete beginners, seasoned wine aficionados and everything in between but promise not to be "snobby or pretentious" and instead aim to find out what types of wine you and your fellow hens enjoy.
Use this as a great opportunity to stock up with a bottle or four for later from the best selection of wine Bath has to offer.
---
Break the ice with party games at the house
Back at the house, you'll need a lively vibe. Without exciting games, the party risks feeling flat with guests exchanging polite smiles instead of giddy laughs.
You know you need some entertaining icebreakers, but the thought of being responsible for everyone's fun can be daunting. The fear of introducing activities that make everyone cringe is all too real.
Worry not! We've got you covered…
12 Fun Filled Party Games for a Classy Hen Weekend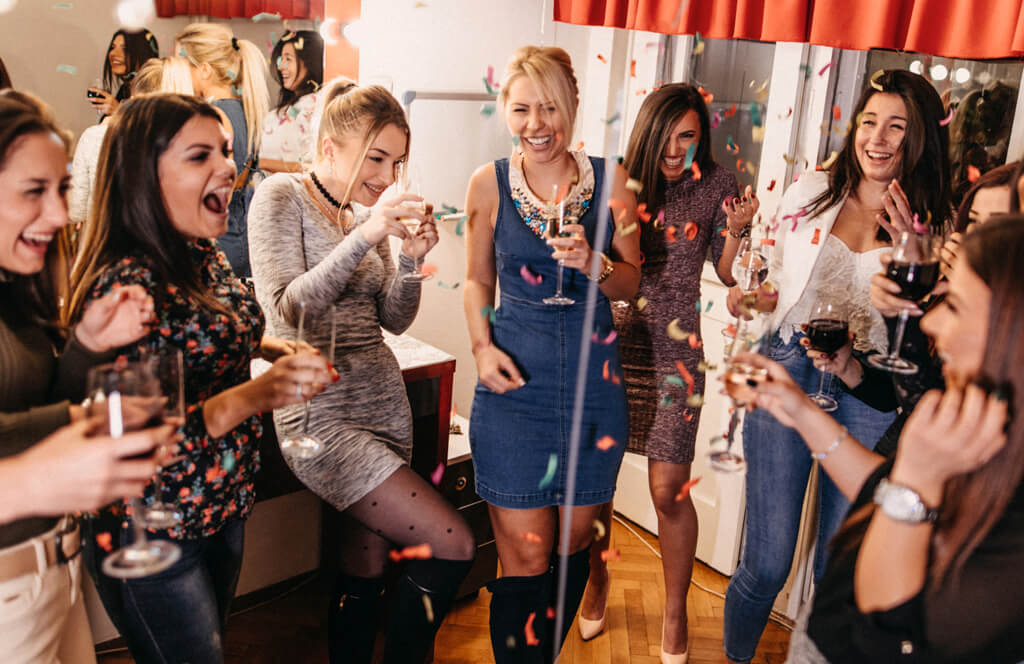 Tried and tested for guaranteed enjoyment
Simple, clear instructions that ensure everyone knows exactly what to do
With 12 to pick from, there's something to suit everyone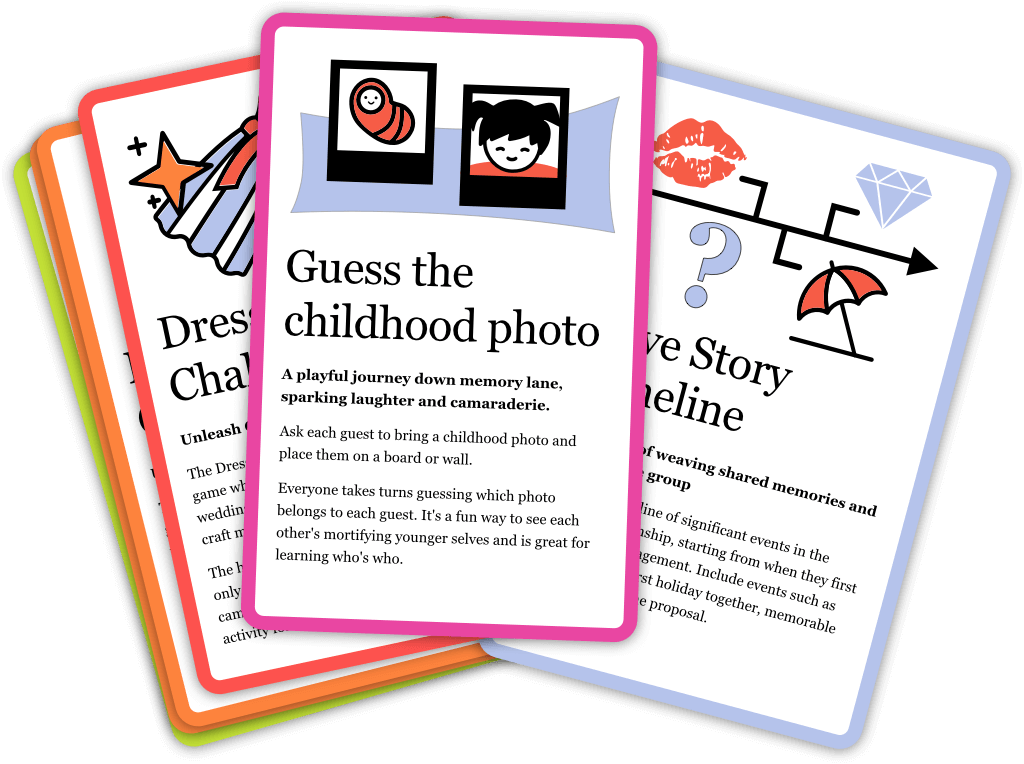 Here's the best part – you can download these games for FREE right now. Let the fun begin!
---
---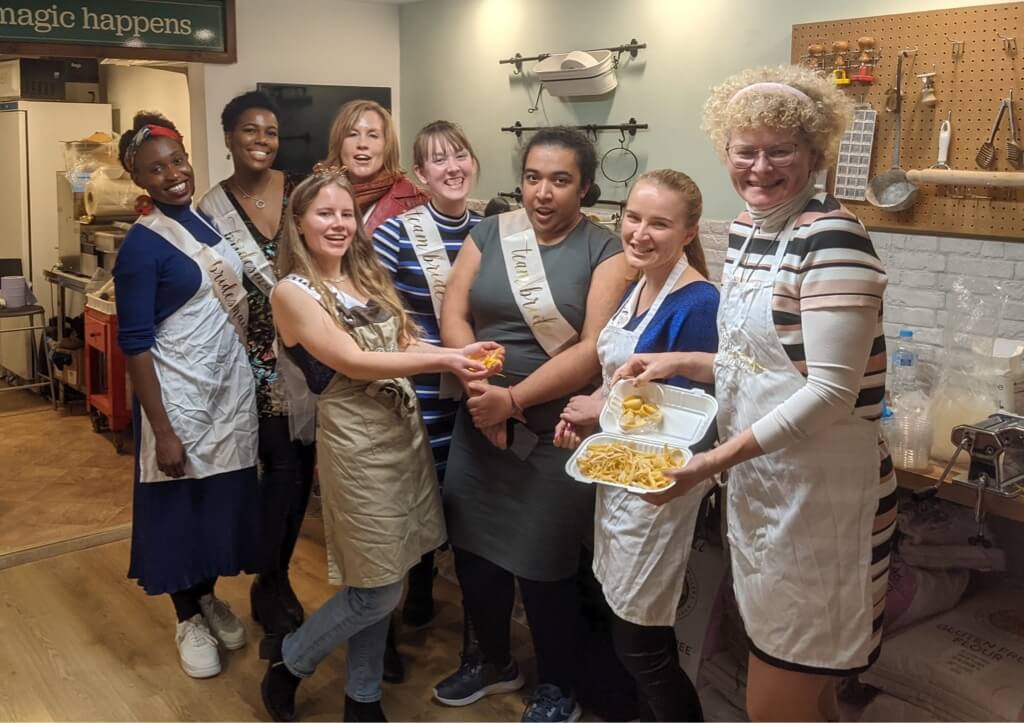 Fill up on a speciality pasta making class
If your hens are travelling from all over, they'll no doubt be arriving a bit peckish.
Look no further than Pasta Uliana who will ply you with a snack and a glass of wine before guiding you through making your very own speciality pasta. Owner Federico came to Bath from Italy via London and made a name for himself combining flavours like blue cheese and cocoa, now one of Pasta Uliana's most popular offerings.
From a simple linguini to their signature crab, lime and mascarpone tortelli, the great thing about pasta is that you can cater it to all sorts of tastes and diets so all of your hens stay happy. They even make a chickpea pasta for those who are gluten-free!
You can do this from the Pasta Laboratory, Pasta Uliana's beautiful store and workshop that sits on the crest of a hill a short walk from the centre of Bath. Alternatively, let Federico come to you and enjoy your delicious pasta creations without even having to move!
---
Saturday morning
Despite the best laid plans to take it easy on Friday, there's a fair chance some of your hens will be nursing a sore head. If you sank one too many mojitos at Sub 13 or ended up throwing shapes at popular club Zero Zero, you won't want to make too early a start on Saturday. Instead, try one of these hen do ideas for a gentle way to get to know the best bits of Bath.
---
Cruise the Avon in a refurbished Victorian eco-boat
Bath's surrounding countryside is quiet and picturesque, and there's no better way to explore it than with Lady Lena. Built in 1890 out of Mahogany, Oak, Teak and Ash, a cruise on this Victorian eco-boat provides a level of luxury you won't find elsewhere.
Enjoy the gentle lapping of the water without the pounding of a dirty diesel engine - she's fully electric, whisper quiet and completely clean.
Being family run and independent, there's a level of service you won't get with a big company, so go ahead and spoil the bride with some decadence. You'll be welcomed with a glass of champagne and can soak it up with a cream tea, private cater or bring your own picnic on this relaxing Bath boat trip.
---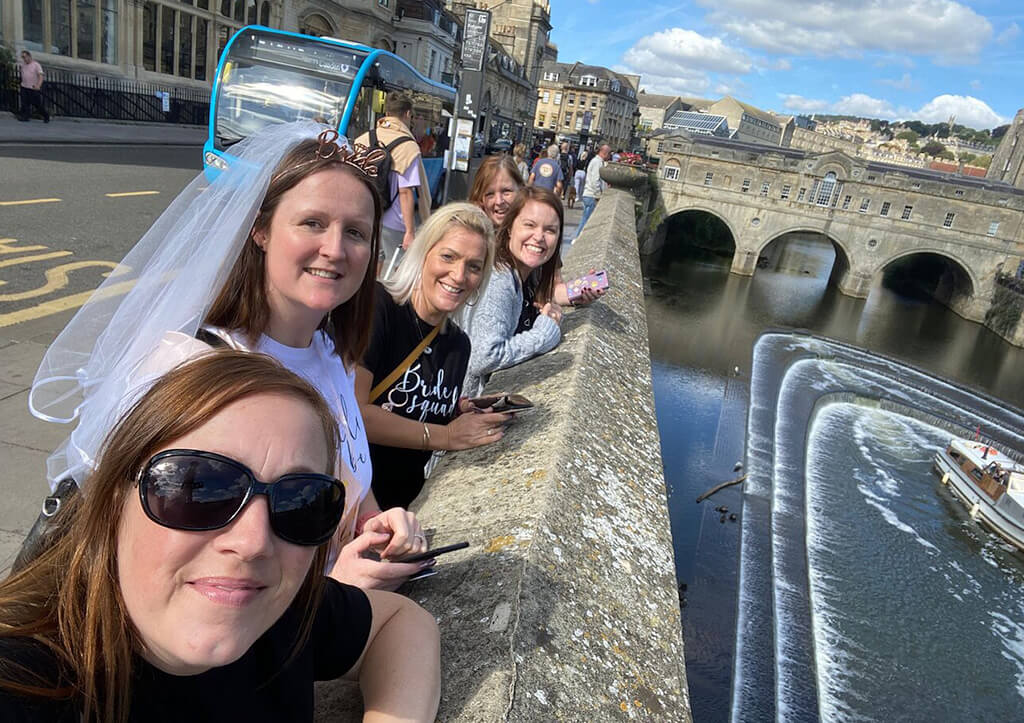 Did we mention Bath's absolutely gorgeous? Everywhere you look there are stunning buildings, views over the river and rolling hills on the horizon. So make sure you see some of it!
Organising a group of hens can be like herding cats. You don't want to wander around aimlessly or you won't get much further than the Roman Baths before everyone gets lost and grumpy, and dives into the nearest pub.
Treasure Hunt Bath can help!
This self-guided tour will let you wander through the streets that inspired Jane Austen's Persuasion and Netflix's Bridgerton at your own pace. There's no one to meet and no cumbersome briefcase to carry around. All you need is a mobile phone.
Our very own strong female lead, Captain Bess, will show you the best of the city in a fun and flexible way. You'll start at Bath Abbey, where Bess will text you a series of pirate maps and cryptic clues, leading you on a carefully designed walking tour around the city. You'll see all the stunners like the Royal Crescent, as well as uncovering hidden gems you'd never have noticed otherwise.
It's super-flexible and there's no fixed start time. So if everyone takes an age to get out of bed, that's fine! You can do it at your own pace and stop as much as you like along the way too. Perfect for a sneaky bit of shopping or snacking on the route! (Bookworm brides should look out for women's publisher Persephone Books on George Street. It's a mecca for literary types!)
If there are lots of you, that's ok: we split you into groups of around 6 and suggest you all meet up at a pub half-way to catch up and compare notes. It's a great way to get your bearings and uncover some of Bath's secret history, with all the fun of an escape room outdoors!
Founders Ian and Paul are just a phone call away and we do free cancellation for any reason, so if it's chucking it down or some girls drop out, we'll refund you.
---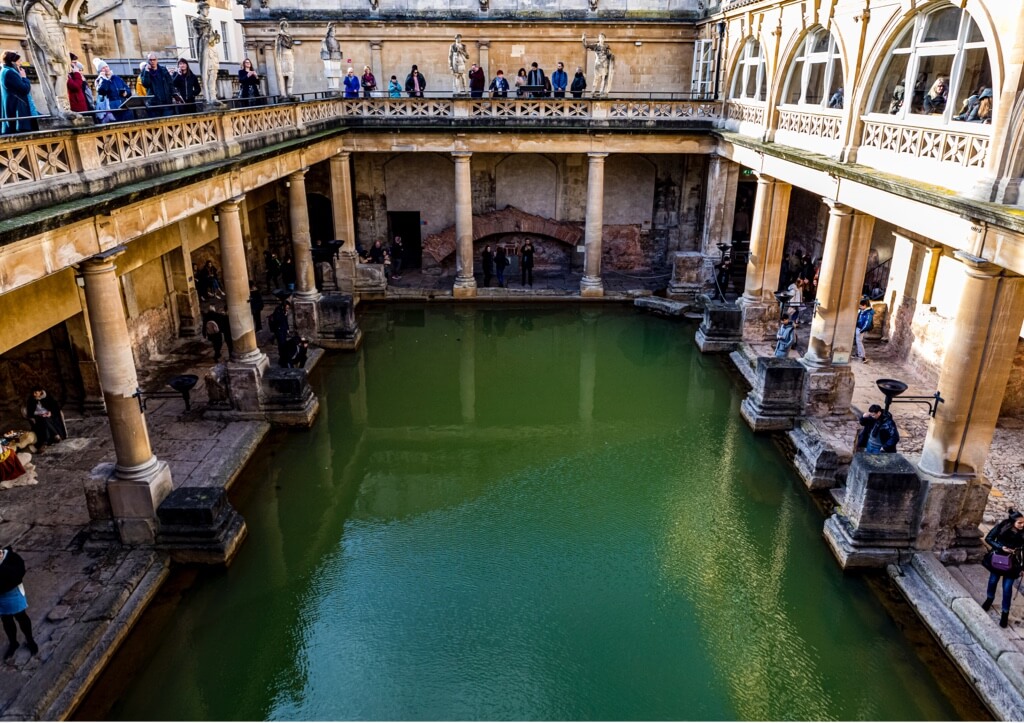 Find your inner goddess at the Roman Baths
Soak up some of Bath's incredible history with a trip to these ancient natural thermal springs, one of only two still-functioning thermae (that's Roman Baths to you and me) in the world.
In this stunning building you can walk in the footsteps of Britain's ancestors and channel the energy of the ancient goddess Sulis Minerva, a nourishing, life-giving mother and healer to those of the Roman world. She might even provide inspiration for classier-than-average hen do outfit ideas if you're determined to fit in some hen party fancy dress.
For hens still feeling a little worse for wear, a sip of this restorative water which contains a whopping 43 natural minerals, might be the answer! It's percolated through limestone aquifers deep below the Mendip Hills before geothermal energy heats it and forces it back up, bubbling into the spa today just as it did 2,000 years ago.
This is another attraction you can take at your own pace and for those in your party who prefer pampering to history, the Thermae Bath Spa is right next door.
---
Saturday afternoon
Saturday afternoon is that crucial time between the morning that's been and the night to come. A chance to take stock, chill out and fuel up ready for the evening. You won't want to be rushing around the whole weekend so here are some wholesome things to do for your hen party in Bath.
---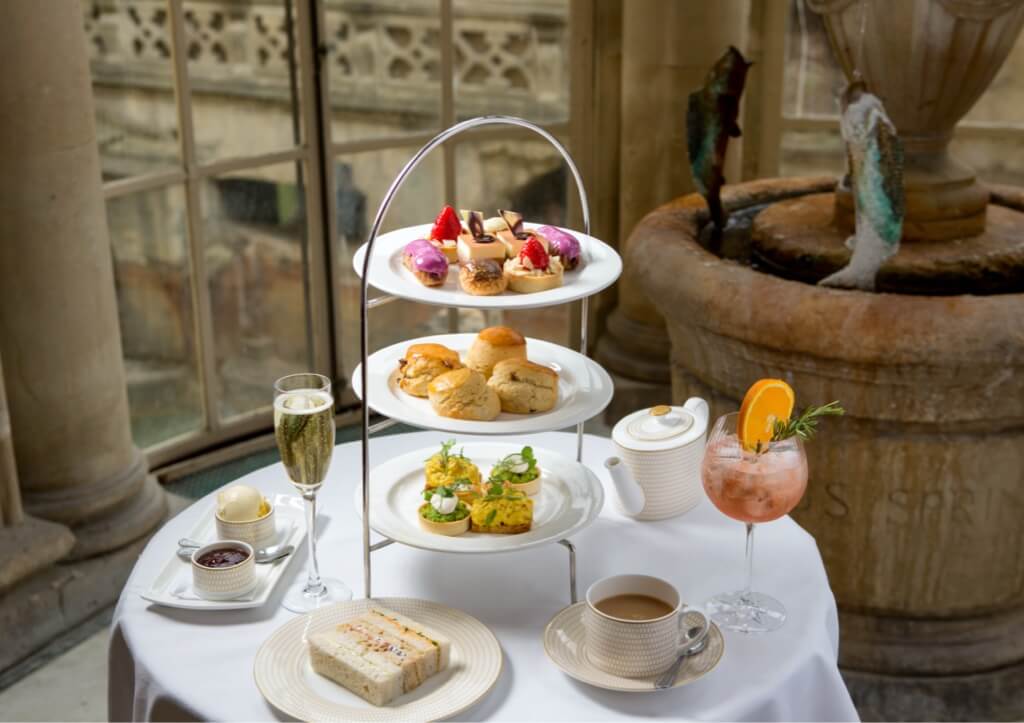 Dine like Jane Austen at Bath's famous Pump Room
Right next to the Roman Baths you'll find The Pump Room, a restaurant and gathering place that has been the place to be seen in Bath for more than two centuries.
It's said that afternoon tea was deemed necessary by the 7th Duchess of Bedford, a friend of Queen Victoria's, to do away with "that sinking feeling" between lunch and dinner. We couldn't agree more!
If your hens need a boost, tea at The Pump Room might be just the thing to provide a pause between your various hen weekend activities. Sink your teeth into a freshly baked scone and sip a cup of Ceylon or a glass of champagne - we're sure you'll feel revived.
You'll be in good company with Jane Austen and Charles Dickens amongst its former patrons. They also offer deals on entry to the Roman Baths combined with afternoon tea.
---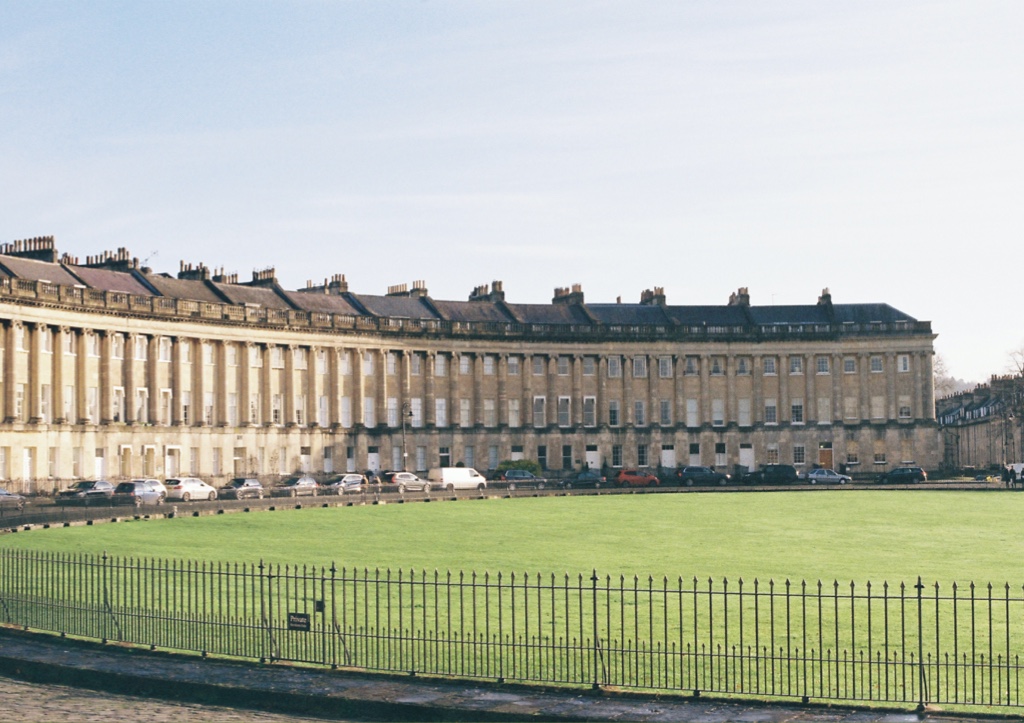 Picnic like a princess on Bath's Royal Crescent lawn
If you're lucky with the weather, there's little better than a hen party picnic to slow the pace of a hectic weekend.
Bathe in the light stone of Bath's Royal Crescent, one of the greatest examples of Georgian architecture to be found anywhere in the country.
Opposite this sweeping crescent of 30 townhouses is a panoramic lawn rolling down to Victoria Park. It's the perfect place to pull out a picnic blanket and watch the world go by. Keep an eye out for the ha ha wall though - these surprise drops can only be seen from one side and were designed to provide an uninterrupted view of the parks for the crescent's esteemed residents.
As well as the setting for multiple adaptations of Jane Austen novels, more recently the Royal Crescent has served as a location for Netflix hit Bridgerton. Grab your spoons and repeat after me in your huskiest voice, "I burn for you!".
If you're more of an active bunch, why not organise your own West Country Games? Cheese rolling, turnip hurling, apple bobbing, scone-scoffing and welly-wanging are all silly fun if you're game.
---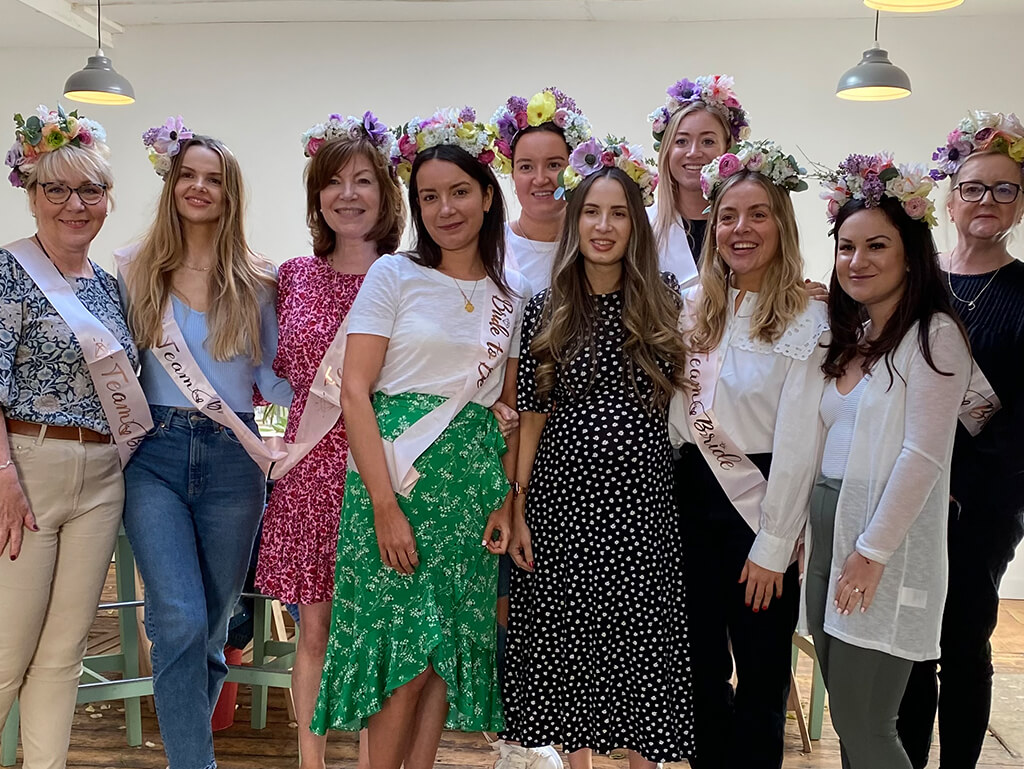 Get creative with some fun floristry
If your girls are the crafty types, flower arranging makes a colourful alternative to nude life drawing.
The Bath Flower School offers packages for hen parties to make playful flower crowns - a great alternative to more cheesy hen party outfit ideas!
With ten or more hens you'll get all the materials you need, along with expert step-by-step guidance to make some blooming marvellous headgear. If flower crowns aren't your thing, Verity and Saffy can help your group make a living succulent wreath or a hand-tied bouquet as an alternative.
Between them, they have over 50 years experience working with flowers and promise a fun, friendly and relaxed atmosphere so even the most creatively-challenged hen will feel comfortable.
The Bath Flower School is based in Larkhall, a trendy urban village towards the north east edge of Bath, easily reached by bus from the city centre. We think this is a better move than driving so you can pop into the local Rose & Crown Pub or Chapter One Brewpub on the way home!
---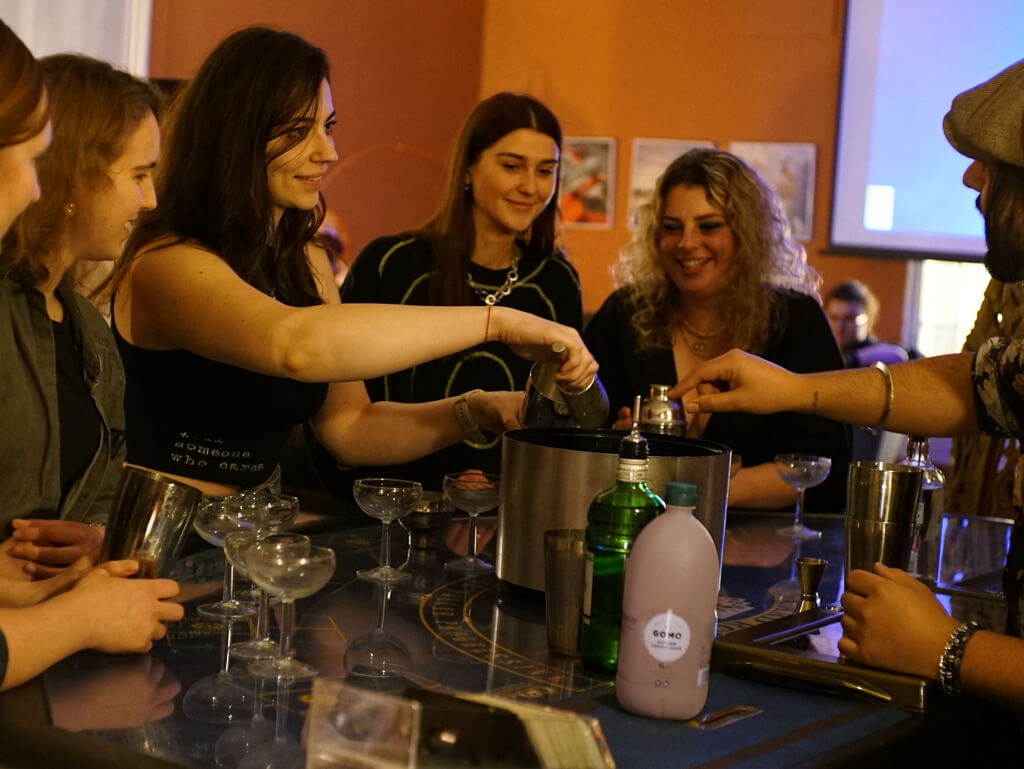 Mix it up with a cocktail masterclass
Take your cue from Bath's notorious playboy and man-about-town Beau Nash, who once owned this gorgeous Georgian townhouse that's now The Drawing Rooms. A member's club and co-working space by day, at night the venue turns into a piano bar and private cocktail making space.
At their celebrated cocktail making class, you and up to 16 hens can pick three cocktails from an extensive list and get shaking under expert guidance. You can choose your own music and they'll cater for any of your party who are alcohol free.
Founder Tom promises a personalised service and, as well as offering the best cocktails in Bath, is happy to help with advice for hens on where to stay and what else to do.
We think this is a more intimate and classy alternative to cocktail making classes somewhere like the bar-chain Revolution. But don't just believe us - the 102 out of 104 Tripadvisor reviewers who rated it excellent can't be wrong - The Drawing Rooms are doing something seriously right!
---
Saturday evening
You've made it this far! Whether you've soaked up history, literature or mainly just prosecco, by this point your hen party should be well on the way to being firm friends. Time to step things up a notch and let your hair down on a Saturday night.
---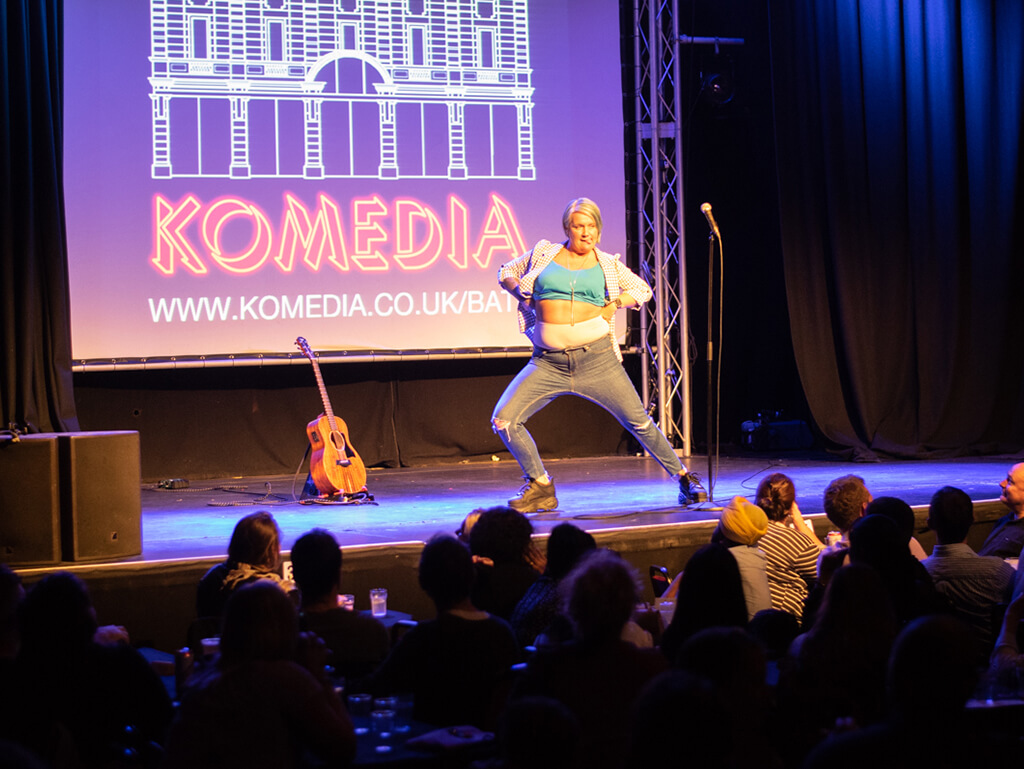 Have a giggle with your girlfriends at a comedy club
Comedy clubs don't have to be all dudes and pints in the back of a pub. Oh no, Komedia Bath is nothing of the sort. This community-owned venue is in a Grade II listed former cinema and boasts two performance spaces.
They get all of the big names and the ones you haven't heard of yet which might be why they've won the Chortle Award for Best Venue in the West and Wales five times.
Every Saturday they host the Krater Comedy Club where you can catch three touring comics before sliding into the post-show clubnight. If you're after a bellyful of big laughs, take a look at who's booked in for your hen weekend.
---
Dance your way through a silent disco ghost tour
We don't know whose idea it was to combine a ghost tour with a silent disco, but this might just be the alternative hen party activity you never knew you needed.
Like a murder mystery with music, it follows the final steps of a young ghost hunter who came to Bath in the 1980's and promises to put a little jump scare in your two-step. Bath's amazing architecture, so beautiful by day, can look downright sinister at night as you scurry down haunted streets and groove to your own silent tune.
Mind you, the sight of a group of hens silently dancing on a dark street should be enough to scare away even the most gruesome ghoul!
If the bride is particular about her music, book a private tour so you can tailor the music to her personal tastes. These tours happen whatever the weather so bring a brolly just in case!
---
Sunday Morning
Don't get stuck for what to do after a big Saturday night. It might be tempting to run home early, but do you really want everyone's last memory of the hen do to be through an Old Fashioned-induced fog?
Thought not. Instead, make the most of your time in this beautiful city and consolidate the new friendships you've formed. Sunday morning is the perfect time to reminisce about the night before, nurse those sore heads and start thinking about the big day to come.
---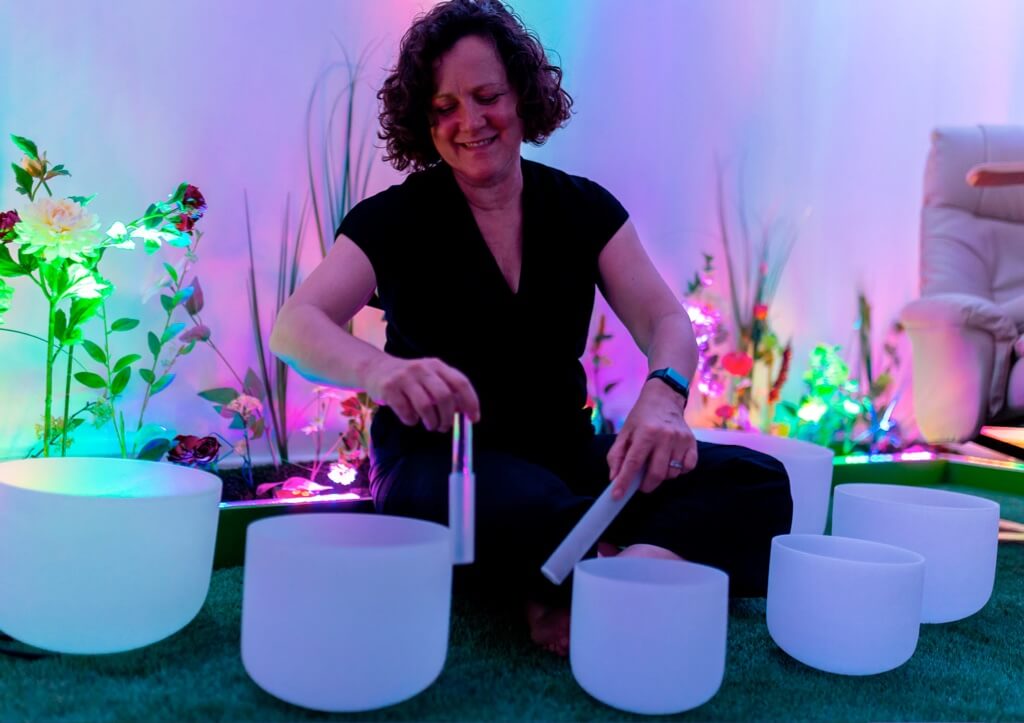 Slide into Sunday with a Sound Bath
What better way to soothe a sore head than with a sound bath - a way to rejuvenate without even getting wet!
The team at The Soul Spa offer bespoke hen party packages where they promise to look after your body and mind with a relaxing combination of guided meditation and crystal bowls.
Turn inwards for a moment and get your dose of feel-good hormones serotonin, dopamine and oxytocin. When it's time to go back into the world you'll do so with a greater sense of peace and balance, ready for whatever the journey home might throw at you.
This could be a great alternative for a sober Saturday evening too - The Soul Spa do an evening session on the last Saturday of every month.
---
Bath Skyline Walk
If you're looking for a more active option, the Bath Skyline walk is a self guided route around the hilltops surrounding Bath. There are stunning views down to the city and you get to see the lush countryside that's just 10 minutes' walk out of Bath. Great for getting some perspective on the weekend and the celebrations to come.
This six mile walk will take around four hours, so load up with snacks, water and get ready to enjoy the meadows and ancient woodlands that surround the beautiful spa town.
The route is maintained by the National Trust and you can get the map of the route from their website. We recommend printing it in advance since it's a bit small to see on your phones. The website also has step-by-step guidance with photos, so it's suitable for even the most directionally-challenged!
Walking and talking go hand-in-hand so why not use this as an opportunity to talk to the bride-to-be about her hopes and any concerns about the wedding day? She might need a hen or two on hand to make sure Uncle Nigel keeps the inappropriate jokes to himself and cousin Rita doesn't spend the entire night propping up the champagne bar.
If you're after something a little shorter, the 1.5 hour stroll out to the View might be a better option.
---
Walk up an appetite for lunch at The Architect
Sometimes it's good to have an incentive to get those steps in, and Sunday lunch at The Architect should get even the most sedentary hen moving. They've teamed up with AllTrails to design a route around the Avon Canal and Bathampton Down that starts and ends at this gastropub.
Alternatively, you can skip the walking and just dive straight into a traditional roast, or one of two vege and vegan options.
The pub is on Orange Grove, with beautiful views over Pulteney Bridge and Bath Abbey. This Grade II listed building built in 1901 was once described as a 'monstrosity and an unbelievable piece of pompous architecture', which is exactly the kind of energy you'll be able to get behind by this point on your hen weekend itinerary. Go big or go home!
---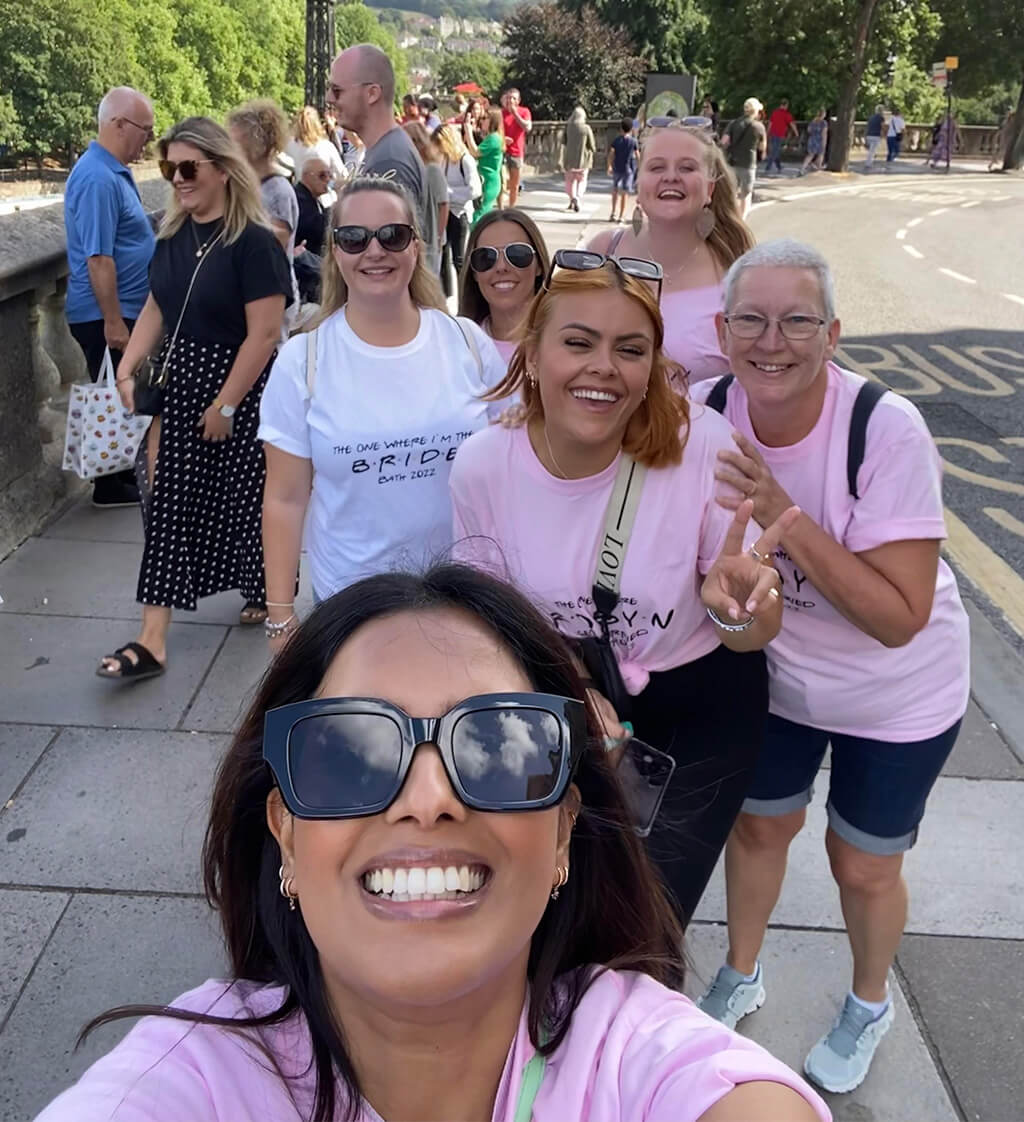 Don't miss a thing!
Before you go your separate ways, there's still time to squeeze in a hen party treasure hunt if you didn't already opt to do that.
Captain Bess is recruiting for her ship and might just invite you to join if you can get through the cryptic questions tailor-made by Ian and Paul to showcase the very best Bath has to offer.
Treasure Hunt Bath is the most flexible and fun way to get to know this stunning spa town. Of course we're biassed, but we don't think any hen party in Bath is complete without it!
---
Hen party accommodation ideas
Bath's a popular place, and we know that finding suitable accommodation isn't easy. To help you out, we've hand-picked some classy options that are happy to host a hen party.
Abbey Mews
Abbey Mews is a stunning Georgian townhouse with 4 classy bedrooms that sleep up to 8.
It's dead close to the centre of town, right by Parade Gardens on the road leading to Bath Spa train station.
A highlight is the outdoor courtyard, a private spot to enjoy the outdoors in the warmer months.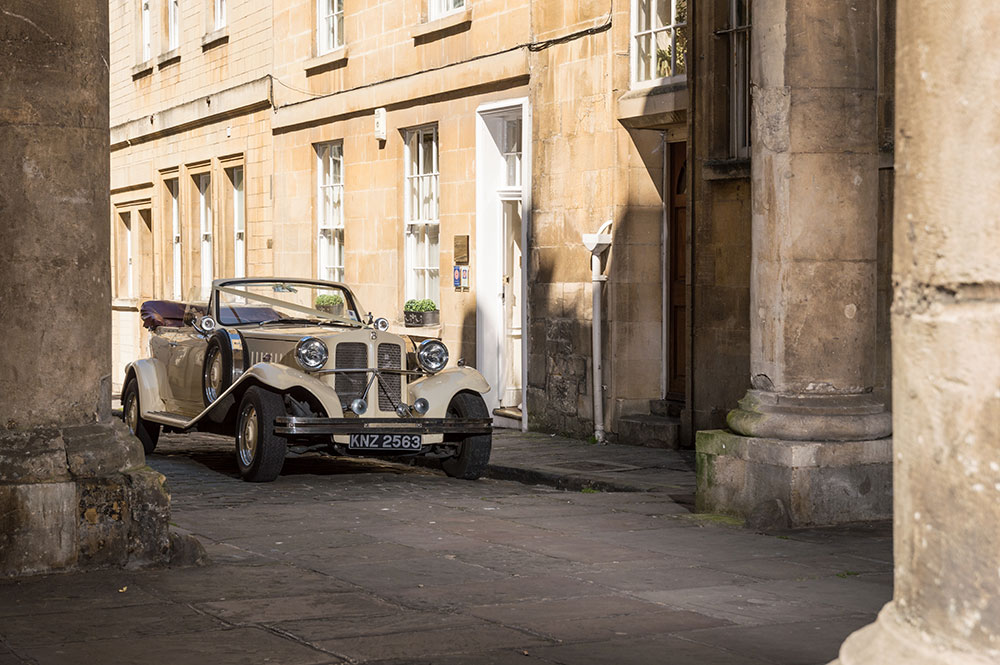 Photo from abbeymewsbath.co.uk
---
The Paragon Townhouse
The Paragon is a Georgian townhouse dating back to 1790. With original period features throughout, it's an elegant option for a hen party of up to 8.
The location's perfect too, just minutes walk from the main attractions as well as the restaurants and clubs.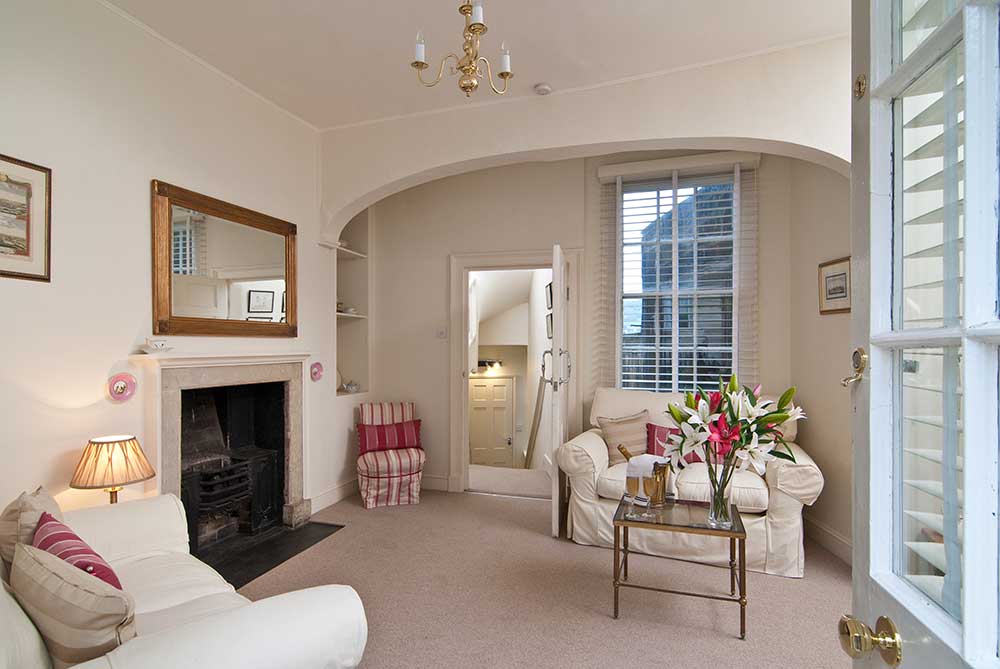 Photo from theparagonbath.co.uk
---
So, there you have it. Plenty of ideas for a hen party in Bath from a cocktail making masterclass to your own West Country Games. Whether you're pampering yourselves with a hen party spa break or sound bath or grooving round the city with a silent disco ghost tour, this carefully curated list should make your hen party in Bath one that's hard to forget.
If you've done a great group activity in Bath that you think should be on this list, let us know! We love to hear about fun hen party activities and will be sure to check it out.
Thank you for letting us know!
🎉 Download your FREE copy of 12 Fun Party Games for a Classy Hen Weekend